Paragliding Prices in Oludeniz 2023
Fethiye is one of the most preferred places for summer holidays. What sets Fethiye apart from Antalya, Bodrum, Marmaris, and Cesme is the fact that it offers a wide range of activities, including paragliding from Babadag Mountain in Oludeniz. Every year, hundreds of people experience the unforgettable paragliding adventure with experienced pilots from a height of 2,000 meters. We have provided answers to the questions that everyone is curious about: How is paragliding done in Oludeniz? What are the paragliding prices?
How is Paragliding done in Oludeniz? Before experiencing paragliding in Oludeniz, you need to make a reservation with the best service providers and experienced pilots. Departure is from the office, and then you are taken to the takeoff site. After preparation and briefing by the pilots, the pilot and the passenger take off by running against the wind. Paragliding in Fethiye Oludeniz is carried out from pistes at heights of 1,200-1,700-1,800, and 1,970 meters throughout the year. While flying freely with your pilot, you can also have the most meaningful photos and videos of your life.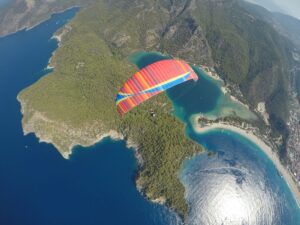 Paragliding Prices in Oludeniz 2023-2024 The paragliding prices in Fethiye Oludeniz Babadag vary each year depending on the increasing costs and the years when the flight will be taken. During your Fethiye holiday, you can buy 4 nights 5 days Fethiye holiday packages to participate in other activities in the region, such as scuba diving, jeep safari, boat tour, bungee jumping, ATV and horse riding, etc. For information about Oludeniz paragliding prices for 2023, 2024, 2025, 2026, and 2027 and to make a reservation, you can contact us.